The municipal bathing area in Pułtusk is a beach on the Narew River with a view of the former castle of Płock bishops. The attractions and facilities of the bathing area can be used every day from 11.00 to 19.00, when the lifeguards of the Pułtusk Water Volunteer Rescue Service take care of the beach – goers.
Apart from the bathing with a pier and a sandy beach, those relaxing on the Narew river will have sun loungers, garden swings and wooden umbrellas to protect them from the sun's rays. For families with children, a slide and water toys are available; and for all those who like physical activity in the water – a water field and floating equipment.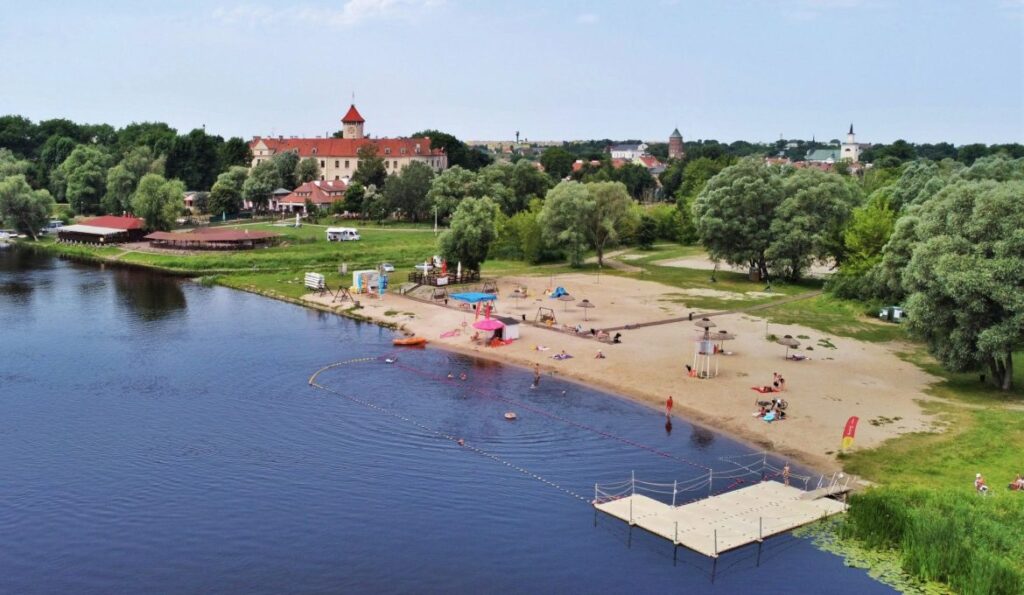 There are also two beach volleyball and basket volleyball courts, a comet space and an outdoor gym. A practical convenience are changing rooms, toilets and a kiosk with drinks.
During the season, beach volleyball and beach soccer tournaments are organized on the beach, as well as outdoor fitness sessions and recreational activities under the supervision of animators.
The bathing area is located near Dom Polonii – a hotel set up in a 15th century castle, with a marina and a hostel. You can moor a small boat or yacht at the marina; there is also a bar and toilets. At the riverside you can rent kayaks, duck or swan pedal boats or a motor boat. But the biggest water attractions organized by Dom Polonii are gondola cruises. During the trip, you can not only enjoy the charms of the Narew nature, but also have dinner on the boat.
You can also satisfy your hunger in one of the few riverside pubs near the castle, such as the Summer Bar Kasztelanka or the "Na Cyplu " Inn. The Keja rental shop also has a wide range of sports and water equipment. Kayaks, pedal boats and electric boats are at the disposal of active leisure enthusiasts; you can also rent quad bikes for driving arung the area. The point organizes canoeing trips and excursion yacht cruises. In the season, there is also a small fish bar.