A morning at the Zegrze Lake can be an excellent photographic setting, especially when you get up very early and the morning mist spread over water. In the vicinity you also find a lot of curiosities and peace and quiet away from the hustle and bustle of water resorts. There is this special atmosphere!
The Zegrze Lake is the largest water reservoir in the vicinity of Warsaw, called "Warsaw Sea" – a mecca for sailors, motorboats and fans of various types of water sports, as well as relaxation by water.
The Zegrze Lake is a retention reservoir that was created in 1963 as a result of damming the lower Narew river with the dam in Dębe. The area of the reservoir is 3030 ha, 41 km long (on the Narew River) up to 3.5 km wide with a capacity of 94.3 million m3 and depth of up to 12m in some places. The lake is connected with Warsaw by the picturesque 19 km Żeranski Canal. Thanks to this, it is an important section of one of the main waterways connecting the Masurian Lakes and the Narew and Bug basins with Vistula River. A well – developed network of access roads connects the town located above directly with Waraw. The Zegrze Lake is primarily a place of rest. It's clear water contribute to this. The reservoir is surrounded by the pine forests that are between Dębe and Wieliszew, Białobrzegi and Rynia, as well as in the vicinity of Jadwisin and Jachranka. You can spot here birds such as terns, gulls, swans, grebes and ducks. After the formation of the lake, many holiday resorts and cottages were built here in its immediate vicinity. Recreation and water sports centers are located mainly in the following towns: Nieporęt, Zegrze, Zegrze Południowe, Serock, Zegrzynek, Jadwisin, Jachranka, Białobrzegi and Rynia.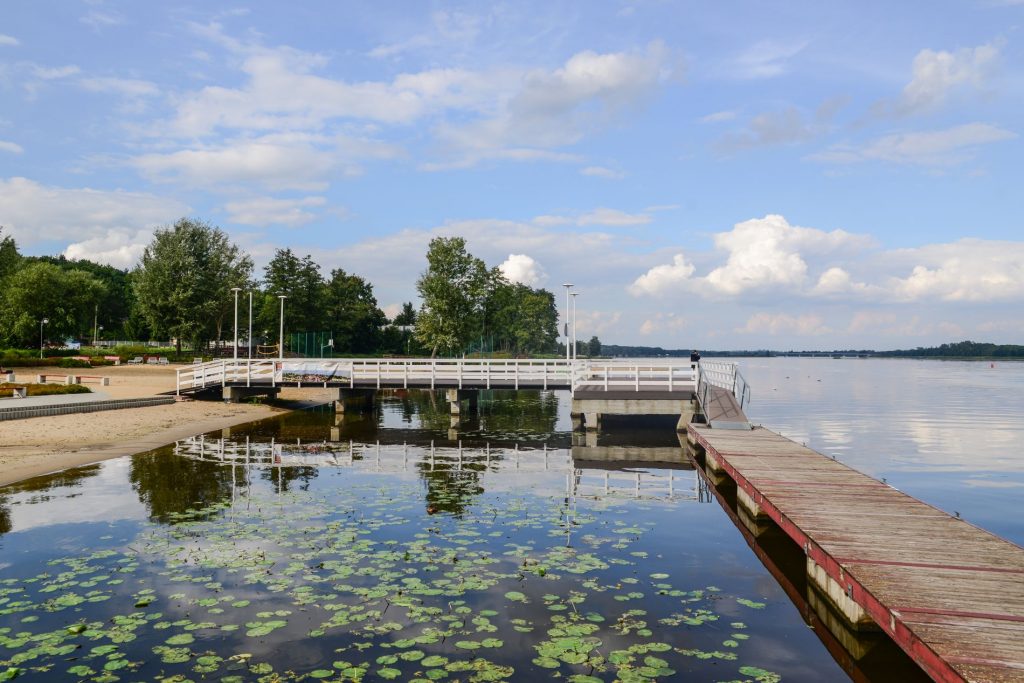 Thousands of Varsovians come here every weekend to relax and cool down on the shared and developed beaches from spring to autumn. At the Zegrze Lake, you find a full range of services that were created for most types of water sports. Sailors, motorboats owners and windsurfing enthusiasts have the most opportunities to enjoy their time here. There are ports and marinas with a full range of specialized services, wintering, yacht transport, minor and major repairs, yacht and motorboat charters, water equipment rentals, windsurfing schools. You can find para sailing, cateman sailing or still little known fly boards.
It is estimated that about 1500 yachts find their place in the marinas on the shores of the lagoon every summer, because it is a great place for sailing. Quick access from Warsaw allows many sailors to use every spare while sailing. The sailing schools that have operated here for many years, have trained several generations of sailors. Every year, a dozen or so regatta events are organized with attendance of the famous Polish sailors. The offer of attractions and water sports on the lake is large, both in summer and winter.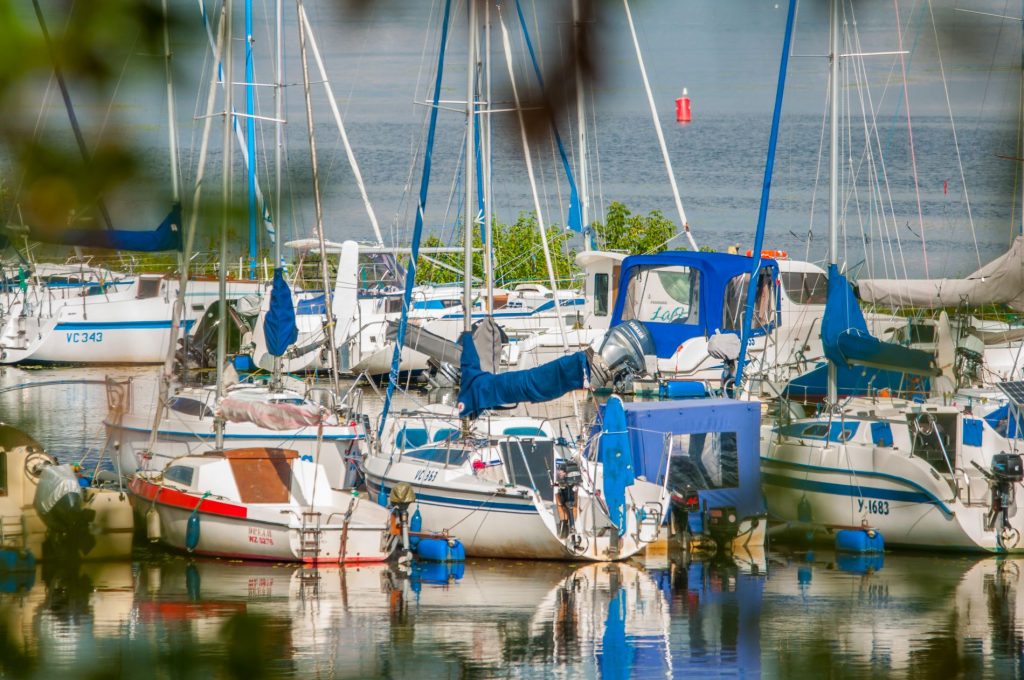 In summer, apart from sailing, you can try fly boarding – various acrobatics on a board in water and in the air. All thanks to a device powered by a water stream. Another attraction is wake boarding – sailing on a special board with the help of a rope attached to a boat or a ski lift. Popular windsurfing is also available. An interesting offer is also a houseboat, or "floating house", that allows you to enjoy communing with nature away from the hustle and bustle of resorts.
In winter, iceboats and ice boarding appear on the frozen reservoir. And if there is a lot of snow, it is the perfect time to go kite skiing. Both in summer and winter, the clear and shallow water of the reservoir make Zegrze Lake a paradise for anglers. You can catch bream, carp, roach, silver bream, sander, pike, perch and catfish here. The fishing record here for weight of the fish was 74.5 kg (catfish). The best fishing places are located at the estuaries of the Narew, Bug and Rządza rivers, as well as in the vicinity of the bridge in Zegrze and the dam in Dębe.
The Zegrze Lake area invites you to active relaxation. There are interesting bicycle paths including Nieporęt, Wieliszewo, Serock, Liwiec, Narew, Vistula, Pułtusk routes and a hiking trail in Jadwisin, that runs along the shore of Zegrze Lake, next to the Jadwisin reserve and ends in the Szaniawski Ravine Reserve.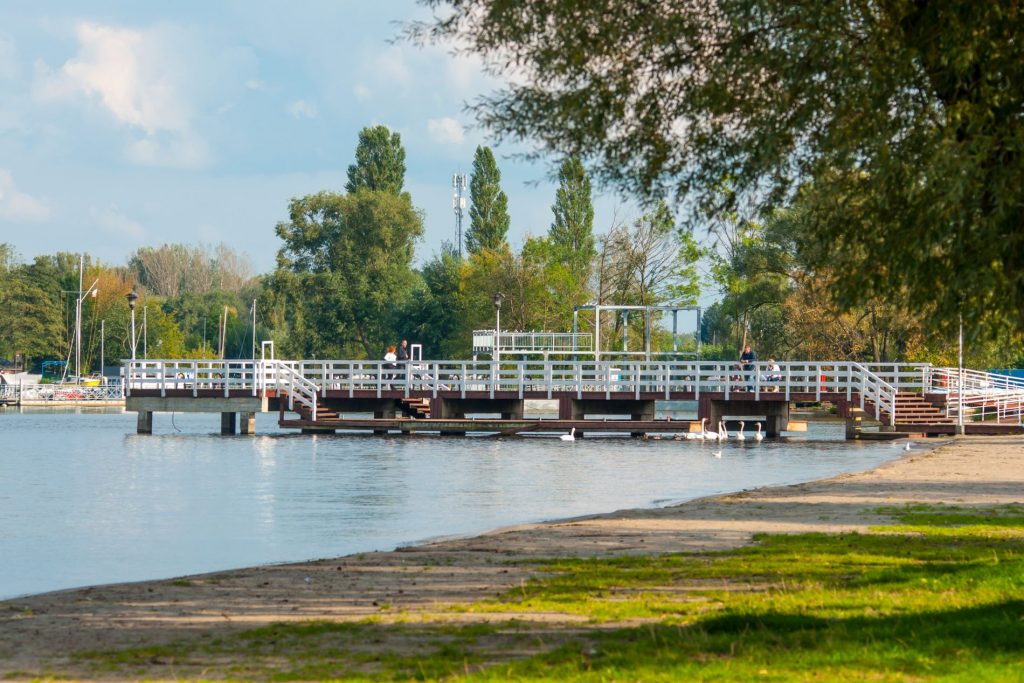 Tourist facilities
House boating is offered by Relaks na Wodzie company. Szanty Cafe, 47, Warszawska Street, 05-130 Zegrze, yacht charter: czarter@relaksnawodzie.pl, contact: biuro@relaksnawodzie,pl, +48 690 899 822, + 48 501 099 822
Wake boarding in the ski lift – Wake Park in Trzciany (Jabłonna commune)
Equipment – wake boards, wet suits, vests, helmets, as well as professional staff with offer advice and assistance in taking the first steps are available.
Windsurfing
Vantus, Ventus Base, Instytut Rozwoju Służb Społecznych, Białobrzegi, 15 Wczasowa Street, email: ventussport@op.pl, tel 502 613 933, 606 915 344, 606 797 677
LURF, Windsurfing School, Nieporęt Pilawa Recreation and Leisure Complex, 3 Wojska Polskiego Street, 05-126 Nieporęt, phone: 511 28 28 29,
Mały Hel, 31a Warszawska Street, 05-130 Zegrze, email:info@malyhel.pl, tel. 516 026 228, 515 282 923, 791 277 677, www.malyhel.pl
Snow kiting
Mały Hel, 31 Warszawska Street, Zegrze, 05-130, email: info@malyhel.pl tel. 516 026 228, 515 282 923, 791 277 677, www.malyhel.pl
Sailing
Port Jachtowy Nieporęt Sp. z o.o 3 Wojska Polskiego Street, Nieporęt, 05-126 email: infor@portnieporet.pl. Tel. 22 772 50 00, 509 162 229, www.portnieporet.pl
Mila Zegrzynek Club, 56 Jerzego Szaniawskiego Street, Jadwisin, 05-140 Serock, email: zegrzynek@klubmila.pl. Tel.: 22 782 73 02, 603 565 558, www.klubmila.pl, Boatswain Office and port service zegrzynek@akademiakusznierewicza.pl. Tel.: 516 151 003
Port Pałac Zegrzyński, 3 Prof. Janusz Groszkowski Street, 05-131 Zegrze, tel.: 22 793 20 64, 22 793 13 57, 22 793 13 65
WDW Rynia, 59 Wczasowa Street, 05-127 Białobrzegi, tel.: 22 768 01 66, 510 291 516
Marina Białobrzegi port. 24 Wczasowa Street, 05-127 Białobrzegi,tel. 22 499 90 40, 695 222 8888
Port 500 Zegrze, 31a Warszawska Street, 03-119 Zegrze Południowe, tel.: 22 205 08 67
Warszawianka Congress Center Hotel Wellness & Spa, Jachranka 77, 05-140 Serock, tel.: 22 768 90 00