Wkra is one of the cleanest rivers in the entire Masovian Voivodeship. On its shores – on the section from Pomiechówek to Borkowo – we can find a dozen or so quiet beaches and tourist centers. As the river is extremely popular among water sports enthusiasts, there are also many kayak rentals on its banks.
Pomiechówek and the Wkra Valley
Pomiechówek is one of the most attractive places to relax on the Wkra River. On the Modlińska Street you will find a sandy beach where you can sunbathe, bridges, wooden ramps and a viewing tower; there are also shops, bars and restaurants and portable toilets.
A unique attraction of Pomiechówek is the forest complex of "Dolina Wkra". This park is an ideal place especially for families with children: there are games that teach the youngest to recognize species of plants and animals, a dendrophone, i.e. forest cymbals, and a meadow with huge figures of butterflies. Entry to the park is free.
On the neighboring Wiking playground, children can play on climbing structures or slides, a wooden house, in a space with slingshots with foam balls, a ball pool, sandbox and zip lines.
Bicycles, wooden cross-country slides for children and bicycles trailers can be rented from the tourist information building. Three tourist routes intersect near the park: blue, yellow and black – so it is a perfect base for cycling and hiking trips.
There is a public car park next to the beach and recreational areas; there is also a railway station nearby – there are trains from Koleje Mazowieckie to Pomiechówek.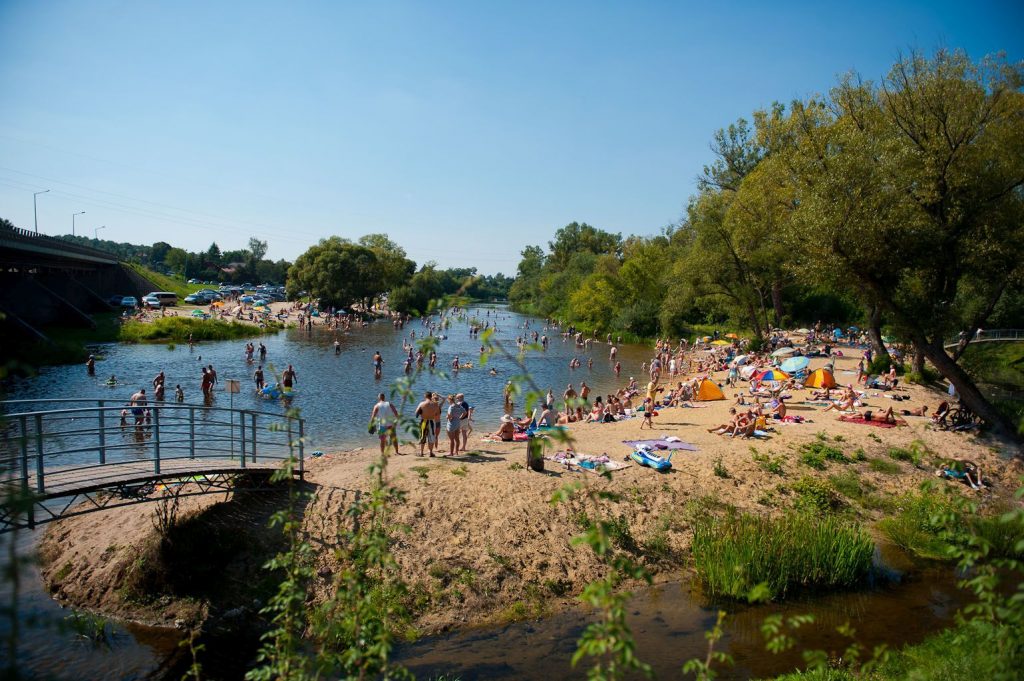 Beaches and resorts
People looking for peace in the middle of the forest, especially those with the smallest children, can go to "Zacisze" run by Anna Korcz in Czarnów. The resort offers free access to the beach; it is also possible to rent sun loungers and kayaks. For children, there is a playground with inflatable bats and a trampoline. There is also a bar serving simple grilled dishes and drinks. In Kosewko, near the old pier, there is a sandy beach, which is especially popular with families with children.
Note: At this point, the creek is much deeper than the height of other places described in the article – so be very careful when entering the water. There is a multifunctional sports field, an outdoor gym and a playground by the beach; there are also picnic areas, a grocery store, parking and toilets. During the summer season, a bar with sausages, pork neck, fries and ice cream is open. There are several agritourism centers near the beach.
Another town that offers the opportunity to rest on the Wkra River is Borkowo, and in particular "Wiosełko" holiday resort. There is a beach at guests' disposal; and for those who stay longer – bungalows and a campsite. There is also a possibility of parking a camper and access to electricity and toilets. There is a barbecue bar by the resort in summer.
To the north of Borkowo, we reach the beach in the village of Popielżyn Zawady. Holidaymakers have at their disposal two sandy beaches with a gentle descent into the water, a campsite and a forest with walking paths. There is a barbecue bar by the beach and a canoe rental service.
When looking for a place for a summer holiday, you can also go to the reservoir in Nowe Miasto on the Sona, which is the left – bank tributary of the Wkra river. The beach and recreational areas are on the left, west side of the lake, where there is also a parking lot, a promenade and a bicycle path. The reason why you should go to Wkra is, of course, kayaking trips. The advantage of the river is its shallow depth and picturesque landscapes that pass during cruises – especially in the section from Śniadówko to Pomiechówek. Kayak bases, night shelters and kayak rentals – apart from those mentioned above – there are, among others, in Joniec, Łomno and Bieżany.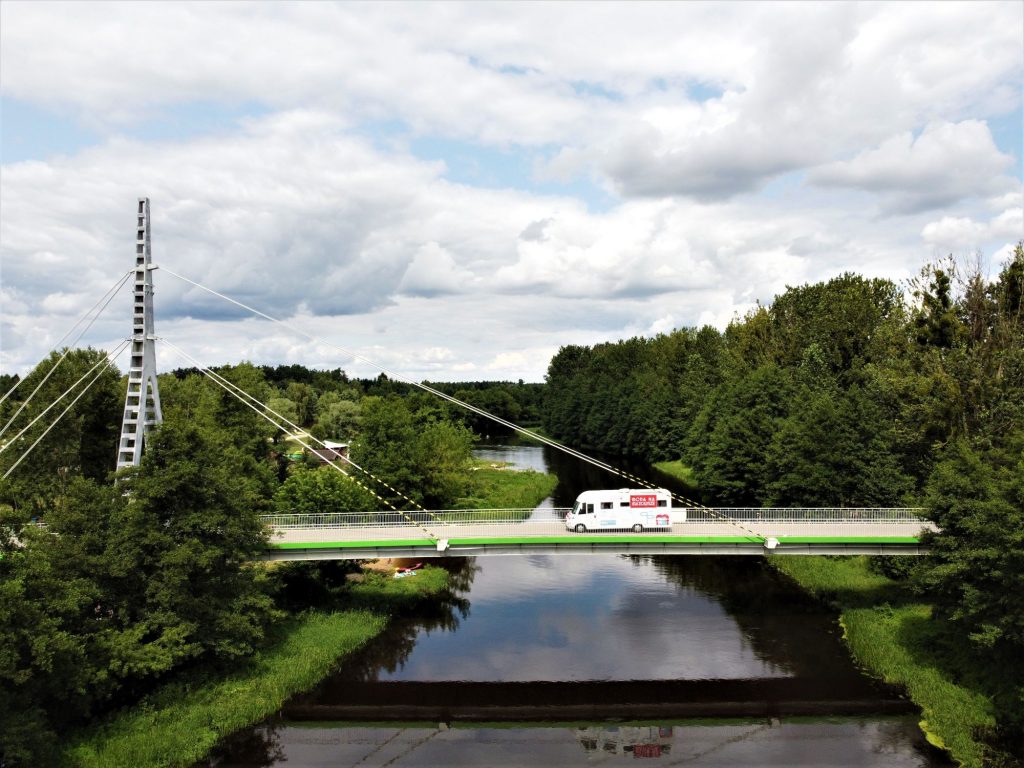 Information for Caravaning Enders
car park for motorhomes "Wiosełko" Recreation Center in Cieksyn access to electricity: YES
refueling with water: NO
greywater discharge: NO
shared toilet YES
Photos from the #KamperemPoMazowszu campaign are aimed at promoting the tourist attractions of the region, however, some shots were taken in places that are inaccessible to motorhomes on a daily basis.