The Moczydło Water Park in Warsaw's Wola district is one of the largest complexes of outdoor swimming pools in Poland. The most demanding lovers of water bathing praise it for modern infrastructure and a wide range of entertainment.
The biggest attraction of Moczydło is a huge recreational swimming pool adapted to the needs of the disabled and equipped with water geysers, a pontoon path, a climbing net, an artificial river and a wave generator. Every day, among others, you can take part in group zumba classes.
The park also includes a sports swimming pool measuring 50 x 20 meters, a paddling pool for children and a water playground with slides: a 15-meter
multi slide with 3 lanes, "kamikaze" with an open gutter almost 8 m high and an extreme 57 – meter "anaconda".
There are also attractions for children in the park – a 40 cm deep paddling pool with two slides, a bucket filled with water and a climbing turtle is the most important of them. Next to it, there is a traditional playground and a zone for mothers with children with a changing table and a feeding chair. Group sports enthusiasts have a volleyball and beach ball zone at their disposal, as well as the Syrenka sports field complex, where you can play basketball or football. For those looking for a quiet relaxation, there are plenty of places to sunbathe or read a book in the shade.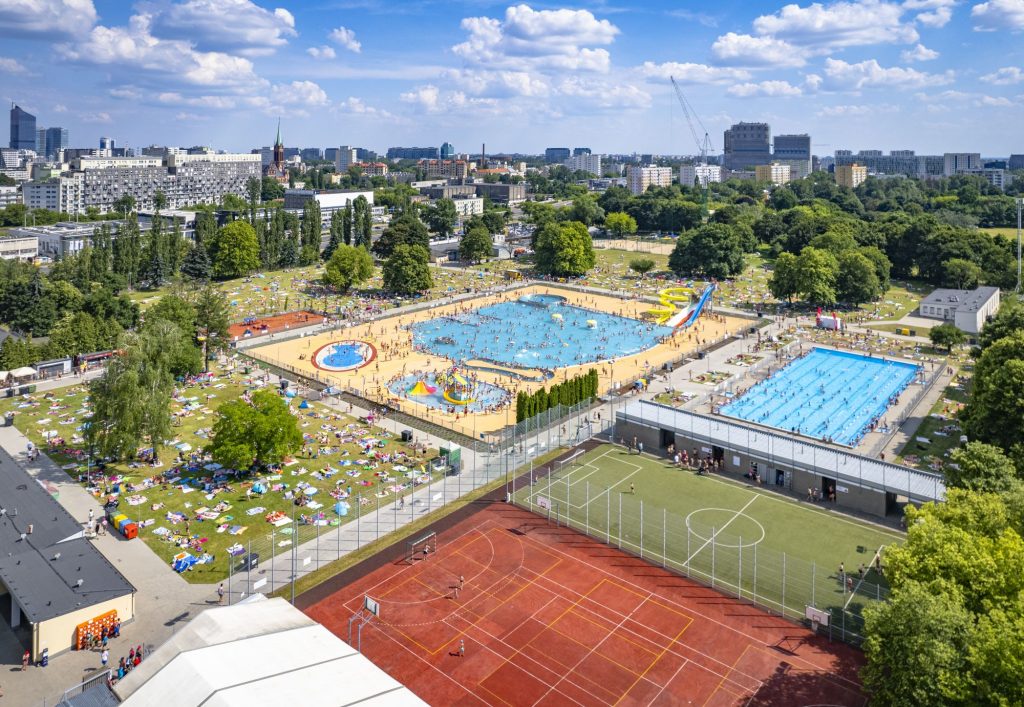 There are kiosks and snack shops in the park. There are also changing rooms and safety deposit boxes (for an additional fee) and a sun lounger rental (alos for a fee).
The Moczydło Water Park is open every day, from 9.00 a.m. to 7.00 p.m. There are several ticket offices in the Park: from Górczewska Street, al. Prymasa Tysiąclecia and Edward Szymański Park. Tickets are also available online (https://panel.eaktywni.pl/widget/1197/0).
The park is well connected: there are bus stops nearby, the Młynów metro station and the Veturilo city bike station. You can leave your own bicycle on the stands at the entrances.
There are two large parks next to the swimming pool complex. The first is Park Moczydło with three ponds, bicycle paths, lots of benches and places to organize a picnic. There is a playground for the youngest, and an outdoor gym and a street workout zone for active people. Reading enthusiasts will find a small, public library in the park where books can be exchanged free of charge. From the Moczydłowski Mound, you can watch the stars in the evening – thanks to the observation scopes located there. The second is the Edward Szymański Park with a skate park, roller rink and exercise
equipment; there is also an extreme sports center, organized by, among others, bungee jumping. And finally, a special attraction: the fountain park, where multimedia shows are organized on weekend evenings.