The Suntago Water World Park is like a tropical jungle, both for children and adults with temperature 32 degrees, 740 real palm trees, several thousands of plants, 5500 m2 of swimming pools, 75 000 m2 of indoor attractions, 4 thematic zones: Jamango, Relax, Spa & Wellness, Saunaria and several restaurants and bars. As many as 10 000 people can relax here at the same time. This wonderful facility, opened in February 2020, will surely become one of the most interesting tourist attractions of Mazovia, attracting guests from both Poland and abroad.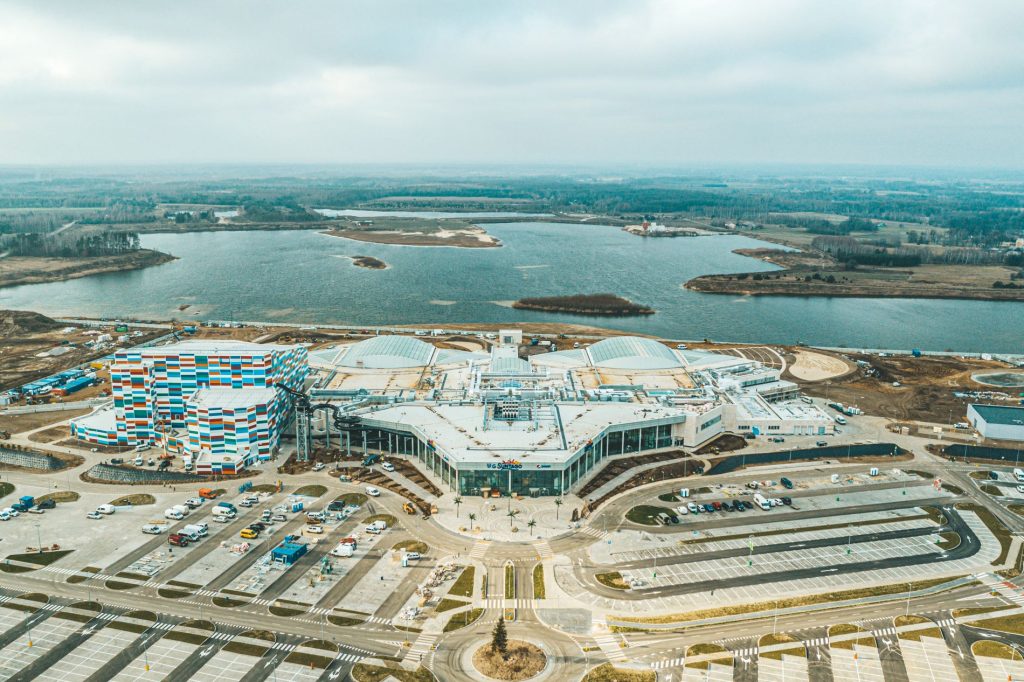 The Suntago Water World Park is the largest covered water park in Europe and the first such spectacular facility in Poland.
The state-of-the-art equipment and best know – how is combined in this place. Thanks to this, the park fulfills both a relaxation and heath function, enabling guests to take a bath in thermal pools, sessions in themed saunas, SPA & Wellness offer, and enjoying the entertainment.
For those looking for an unforgettable experience, the largest zone of covered water slides in Europe has also been designed. The biggest slide is over 30 meters high and over 300 meters long, a wave pool, a rushing river and a river of adventures.
Instead of going on vacation abroad, the facility allows you to spend a holiday in Poland in a tropical climate of 32 degrees Celsius, surrounded by over 740 real palm trees brought from around the world and several thousand of plants. The Park of Poland and Suntago Water World is a place for lovers of tropical climate, both for a few hours and also for several days. The comfortable accommodation of Suntago Village will be intended for groups. Guests have at their disposal 92 fully equipped, modern modular houses with playground areas for children, a barbecue area and a reception with a mini deli.
The Suntago Water World is divided into three thematic zones: Jamango, accessible to everyone regardless of age, and Saunaria and Relax, which can only be accessed by people over 16 years of age. Inside there is also w Wellness & SPA.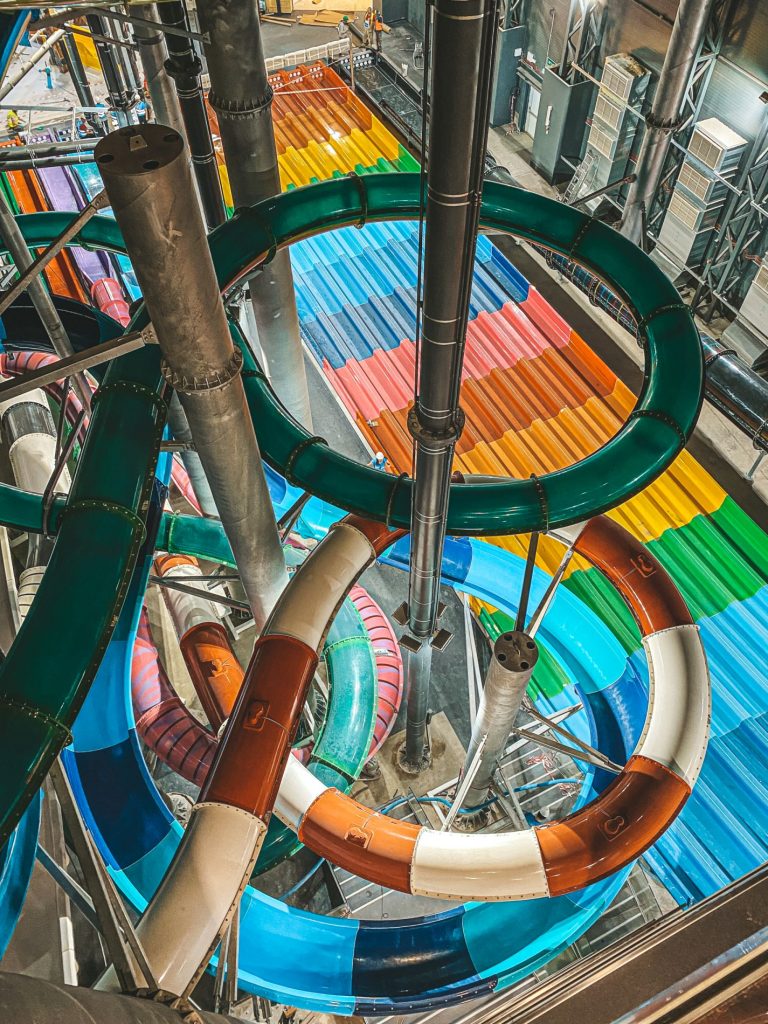 JAMANGO
It is a water jungle with a lot of world – class attractions, 4 000 sun loungers surrounded by real palm trees, 32 slides, including one the longest in Europe, thanks to which Suntago guests will have the impression of gliding from the height of the Eiffel Tower! Up to 4 people can ride on the pontoon on the Green Mamba slide. The Jaw Drop is short, but dizzyingly fast, with only 55 meters of almost vertical descent. The Jamango also offers: Tiger's Race or the 8-seater Rainbow Race, where you can race with family and friends, sliding down parallel tracks. For the youngest, you can also use smaller slides, such as the Unicorn Cloud starting from a height of 6 meters or the Pirates Playground. There is a mini water playground in the zone.
The Jamango is also an artificially generated wave pool. Depending on the strength and speed of waves, Suntago guests can enjoy different experiences. The adrenaline lovers can find a rushing river and a river of adventures in Jamago. A double surf – air machine with an instructor is dedicated to guests who wish to practice surfing.
There is also an outdoor and indoor thermal pool with a bar in the zone. In this part of the park, guests can find two restaurants and bars at their disposal: Poleczka with the Polish cuisine, Va Bene with Italian dishes and the Pirate Snack Bar, as well as a Juice Bar for children.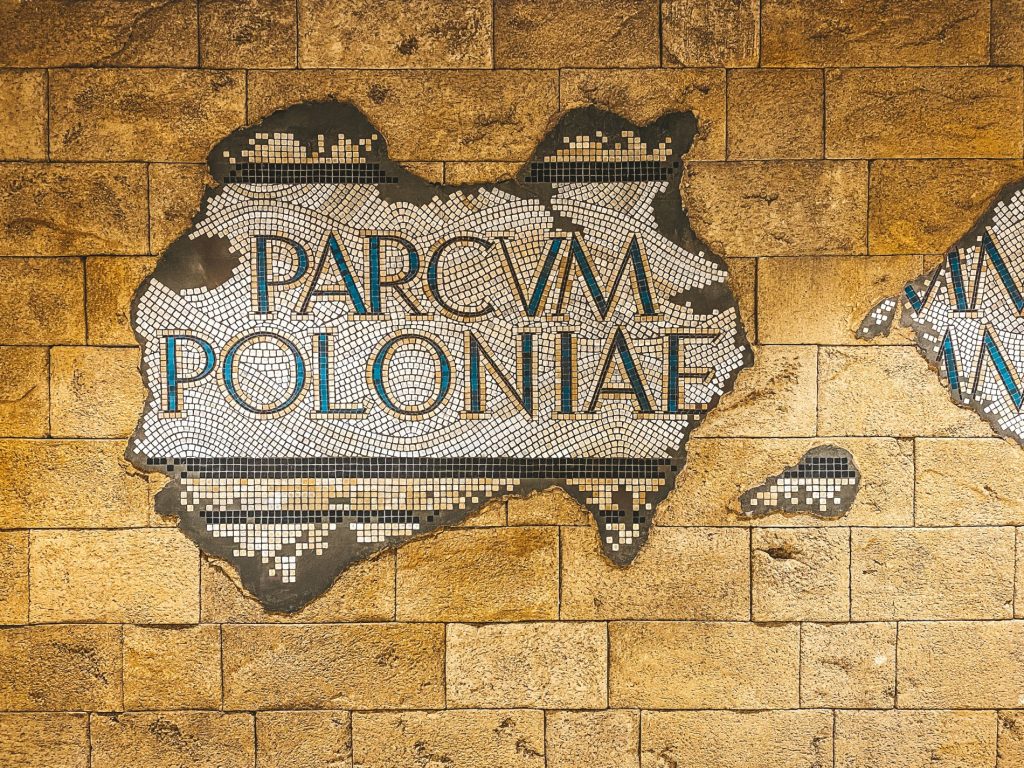 RELAX
It is an ideal place for regeneration and relaxation in the area of palm trees from Costa Rica, Malaysia and Florida. In the outdoor and indoor pools with thermal waters, Jacuzzi, hydro massage and two bars embedded in the swimming pools. In the Relax zone, you can also find the Dead Sea pool with brine water rich in minerals that have beneficial effects on the blood system and regenerate the skin. There is also a sulfur pool here, that is an ideal choice for people struggling with rheumatoid and joint problems. The effects of this natural water also benefit regeneration and strengthen immunity. Relax is also a floating pool, steam room and numerous massage beds.
The Relax zone offers American cuisine at the Arizona Steak & Burger restaurant, Japanese cuisine in the Nori Sushi Bar and the ala carte restaurant PORTADA for the most demanding guests.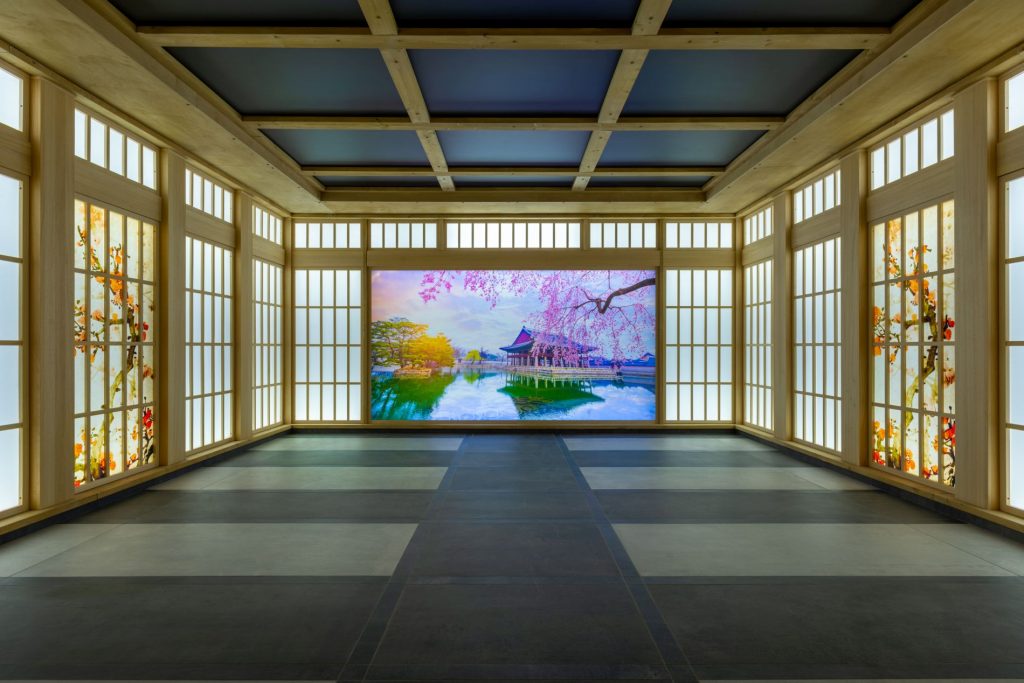 SPA & WELLNESS
Inside the Relax zone, guests can also take advantage of cosmetic treatments and massages available upon prior reservation. There are individually prepared body and face treatments based on renowned cosmetic companies on offer: Polish brand Ziaja PRO, Swiss Selvert and Italian Diego Della Palma.
In the big offer you can find many massages and rituals, such as Filipino shell massage, Korean balls, Hawaiian stones and Turkish hammam ritual. Only here you can feel the fullness of relaxation during the original Suntago massage. The relaxation and proper care are guaranteed by face and body treatments, such as oxygen infusion or water dermabrasion. There are also classics such as manicures and pedicures.
SAUNARIA
In this part of the park you can find 10 different saunas and baths as well as 2 vital pools. The Valhalla, a classic wooden sauna with a design that takes you to the Viking world, the Paradise Beach sauna in the shape of a Maldivian cottage and the Egyptian Village, consisting of five different saunas tailored to the very wide expectations of guests. These are just some of the attractions. The Finnish saunas offer higher temperatures, two bio saunas are with lower temperature and higher humidity, and an infrared sauna where the temperature is not too high, but the infrared rays penetrate the body and directly affect the body. There is also a unique inhalation sauna with the decor bringing to you the bosom of the Polish forest, and the appropriate temperature, high humidity and essential oils helping to cleanse the respiratory tract and relieve stress. What is more, numerous sessions conducted by sauna masters can ensure that the use of the Saunaria brings maximum health and relaxation benefits. The above – mentioned saunas are perfectly matched by Mont Blanc, a place with a temperature of – 12 Celsius where you can rub natural snow. Then you can go to the Korean Relaxation Room, where aromatherapy and soothing music can calm your emotions and bring you into a state of meditation. It is also worth visiting the salt cave, which has a micro climate similar to the seaside. Salt blocks and granulated salt on the floor of the cave, thanks to heating and ventilation, saturate the air with elements that have a positive effect on the respiratory, nervous and circulatory systems.
The guests' attention is also drawn to the spectacular Calla shower in the shape of a giant lily with water at temperature of 16 degrees.
Relax, Saunaria and Wellness & SPA zones for the comfort of users are available to guests over 16 years of age. The Saunaria zone is a "textile free" zone.
THE SUNTAGO VILLAGE
The Suntago Village is a place for guests who want to enjoy the holiday atmosphere for longer. To start with, there are 92 fully equipped bungalows available. Each has an area of 32m2, but it is possible to connect two houses with each other, which makes space for eight people.
In the heart of the Suntago Village is the SunHub – reception with a mini deli available 24 hours a day. The self – service grill zone and playground will provide additional attractions after entertainment in Suntago, that guests will get to by a free eco bus.
THE CONFERENCE ROOM
There is also a 550m2 conference room in the park, allowing you to organize conferences or business meetings in a tropical atmosphere.
PARKING
For motorized guests, 2500 free parking lots for passenger cars and 19 lots for buses have been prepared. A separate car park is available 24 hours a day for the Suntago Village guests.