The Pilica Valley is one of the favorite vacation spots of the inhabitants of Warsaw and its vicinity. It is an ideal area for hiking, cycling, horse riding and canoeing. Piliuca is also loved by anglers, and their love is directly proportional to the number of fish living in clean water. The most valuable sections of the river are under protection.
The Pilica Valley is one of the most attractive canoeing routes in Mazovia, ideal for both beginners and experienced canoeists. On the flat shores, it is easy to find berths, camping sites, agritourism farms and holiday centers. The upper part of the trail is difficult (portages, narrow bed, obstacles in the current). The lower part of Mazovia, one third of the length of the strongly meandering river, is definitely easier, clean water, a gentle current, a sandy bottom, a bed up to 100 meters wide (sometimes up to 300 m). The river creastes picturesque backwaters, loops, islands overgrown with shrubs and oxbow lakes. The current is sometimes blocked by fallen trees. The left bank is a high escarpment overgrown with bushes and forests. Further on, on the plateau, there are orchards. The right bank is flat, with sandy beaches and a wide plain of meadows and pastures.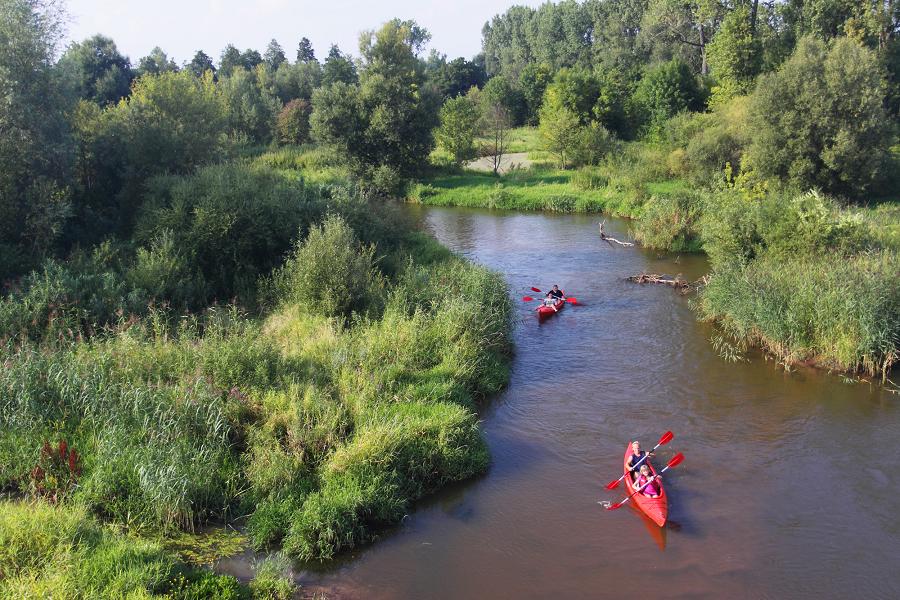 About the river
The Pilica is the longest left- bank tributary of the Vistula: it is 319 km long. It flows through three geographical regions. It begins it run at an altitude of 350 meters above sea level in the vicinity of the city of Pilica in the Kraków – Częstochowa Upland, late it crosses the highland, the Central Poland Lowlands and the Środkowomazowiecka Lowlands. It connects with the Vistula near the village of Ostrówek near Warka. The mouth of the Pilica River is located at altitude of 96 m above sea level, i.e the river descends along its entire length by 254 m, forming meanders in many sections, accompanied by oxbow lakes and arms. There are also islands and islets in its channel.
WHERE TO BEGIN THE TRIP
One-day:
Biała Góra – Warka
Warka – Mniszew
Lechanice – Warka
Białobrzegi – Brzeźce
Przybyszew – Brzeźce
Brzeźce – Budy Michałowskie
Budy Michałowskie – Warka
Tomczyce – Brzeźce
Brzeźce – Warka
Brzeźce – Niemojewice
Górki – Brzeźce
Przybyszew – Białobrzegi
Nowe Miasto nad Pilicą – Przybyszew
Two-day:
Nowe – Miasto nad Pilicą – Mniszew
Nowe Miasto – Warka
Górki – Warka
Białobrzegi – Mniszew
Tomczyce – Warka
Osuchów – Warka
Przybyszew – Warka
Domaniewice – Przybyszew
Przybyszew – Warka
WORTH SEEING
Mniszew – military open-air museum: field fortifications and heavy weapons,
Warka – the parish church of St. Nicholas, the former complex of the Franciscan monastery,
classicist town hall, the Museum of Kazimierz Puławski, Caravanning Museum,
Nowe Miasto nad Pilicą – the parish church of the Protection of the Mother of God, a Baroque complex of the Capuchin monastery, a late Baroque palace with a park
Biała Góra – a viewpoint of the dune