The meanders of Liwiec visible from Sowia Góra are one of the most beautiful views of the border between Mazovia and Podlasie. In addition, clean water, a safe river – shallow and with a gentle current, around the forest of the former Kamieniecka Forest and the Bug Landscape Park, all less than an hour's drive from the capital by car or train. The Liwiec Valley attracts hiking, biking and canoeing enthusiasts of all ages, also seniors and families with young children who like to splash on a sandy river beach in the summer. On both sides of Liwiec there are extensive pine forests with characteristic dunes and marshes – a refuge for deer, wild boar, hares and badgers, in the marshes – elk, and in autumn – mushrooms. Many birds stop here during the spring and autumn migrations.
OFFER FOR
Liwiec is a lowland, natural and unregulated river slowly carving a wide valley in a sandy plain. It flows calmly among fields, meadows and moraine hills and pine forests, which is why the Liwiec rafting is recommended for beginner canoeists. In places, the river meanders with narrow, sharp bends, and then follows a wide bed. In most places, it is shallow and has a sandy bottom, a lot of shoals, islands and obstacles (fallen trees, slipped from the banks) and buildings forcing you to carry- overs (weir, valve, mill in Paplin, power plant in Kalinowiec). A characteristic feature of Liwiec are large seasonal fluctuations in water level, which can reach up to three and a half meters. The shores are diverse: sometimes flat and marshy or high, there are stretches of beautiful beaches and meadows surrounded by forests, and sometimes you can see the beavers of the lodge behind the reeds. There are also many camping sites on the river and a riverside hostel in Zalew Szpinki.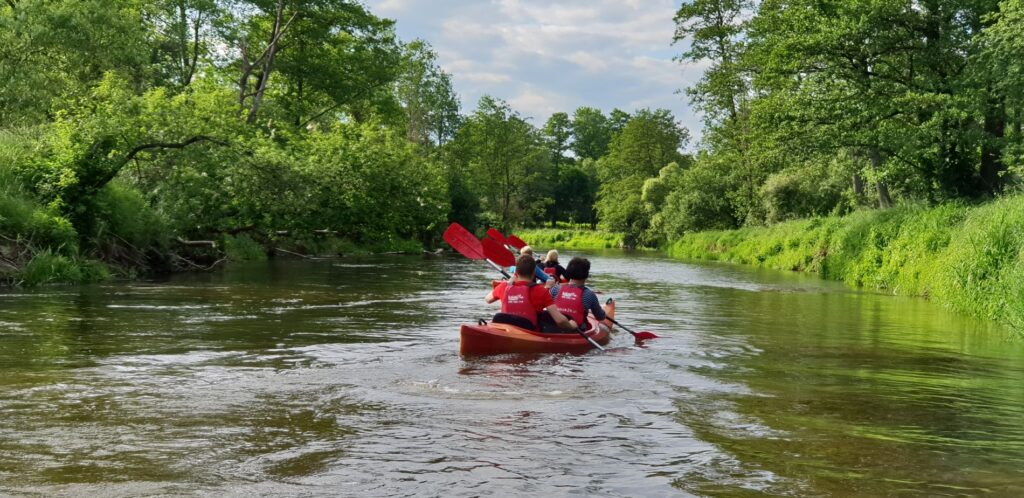 About the River
Liwiec, the 142 km long left tributary of the Bug, is considered to be on of the most beautiful rivers in the Polish lowlands. The Natura 2000 areas have been designated along the entire length of the river – the habitat protection area "Ostoja Nadliwiecka" and the special bird protection area "Dolina Liwca". It has two springs: main, southern, located near the village of Sobicze, and northern, located near the village of Zawady. The mouth of the Liwiec river to the Bug is located in Kamieńczyk, a beautiful holiday resort situated among pine forests. Recommended bathing areas: in Świnotopa, Kaliski and Urle. The main tributaries are: Stara Rzeka, Helenka, Muchawka, Kostrzyń, Czerwonka, Miedzianka and Osownica.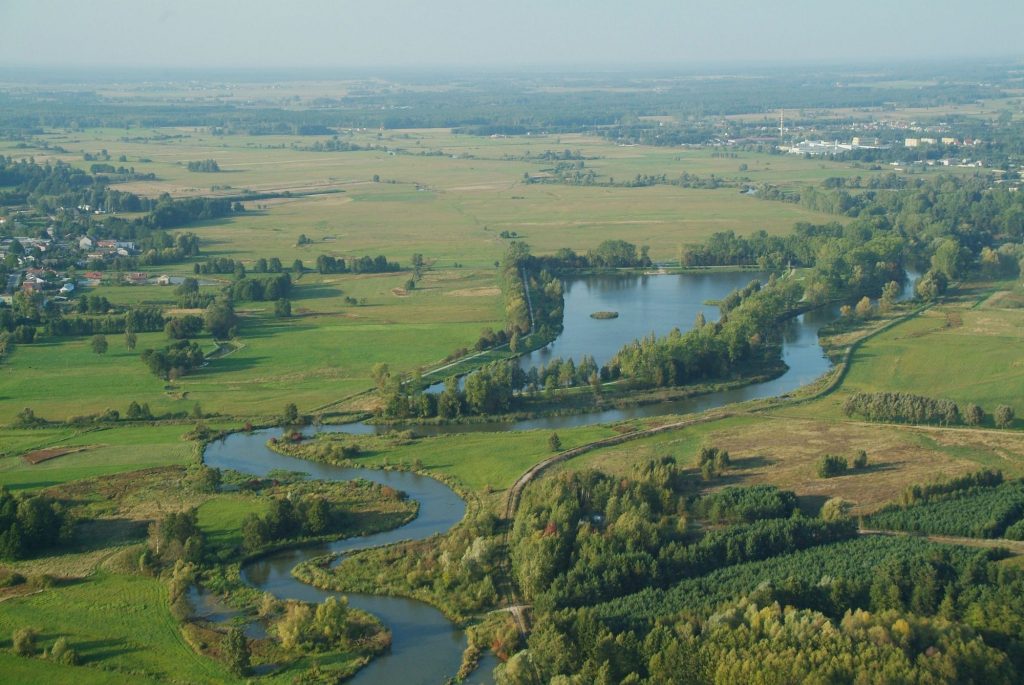 Where to start the rafting
One day:
Puste Łąki – Kamieńczyk,
Urle – Kamieńczyk,
Zawiszyn – Kamieńczyk,
Sekłak – Kamieńczyk,
Chodów – Kisielany,
Kisielany – Zaliwie Szpinki,
Zaliwie Szpinki – Wyszków,
Puste Łąki – Kamieńczyk,
1- 2 days:
Kalinowiec – Kamieńczyk,
Kalinowiec – Zawiszyn,
Zawiszyn – Kamieńczyk,
Urle – Kamieńczyk,
Wyszków – Liw,
Borzychy – Kamieńczyk,
Węgrów – Kamieńczyk,
Węgrów Kalinowiec,
Wyszków – Węgrów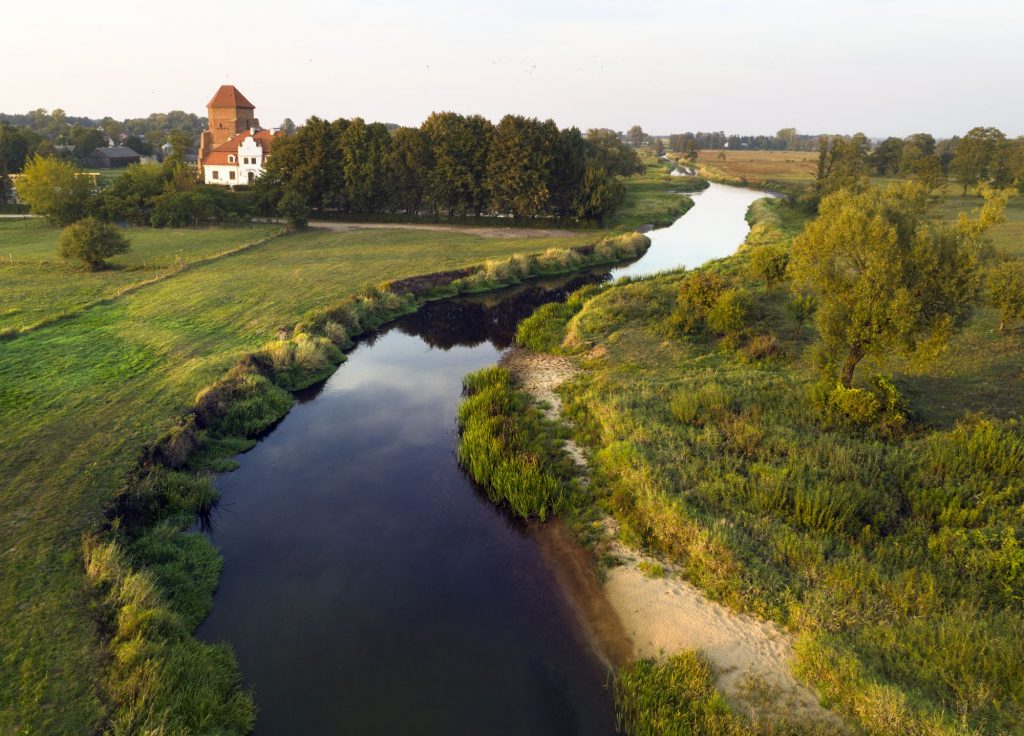 Worth seeing during the rafting
Grodzisko (ramparts from the 11th century),
Sowia Góra (the highest hill in the area),
Liw (castle with the Museum – Armory),
Stara Wieś (Radziwiłł Palace),
Paplin (manor house),
Gwizdały (the Whistle Museum located in the primary school building), Kaliska (an exhibition about the Paderewski family located in a primary school),
Kamieńczyk (old town, the preserved market square, the grave of Cardinal Wyszyński's parents in the cemetery),
Loretto (Sanctuary of Our Lady of Loreto),
Julin (an exhibition on the Bug Landscape Park is planned in the former Paderewski's Palace),
Łochów (palace and park complex from the 19th century),
Węgrów (Minor Basilica of the Assumption of the Blessed Virgin Mary – the famous "Mirror of Twardowski" in the sacristy, the Post – Reform Team, the House of Gdańsk)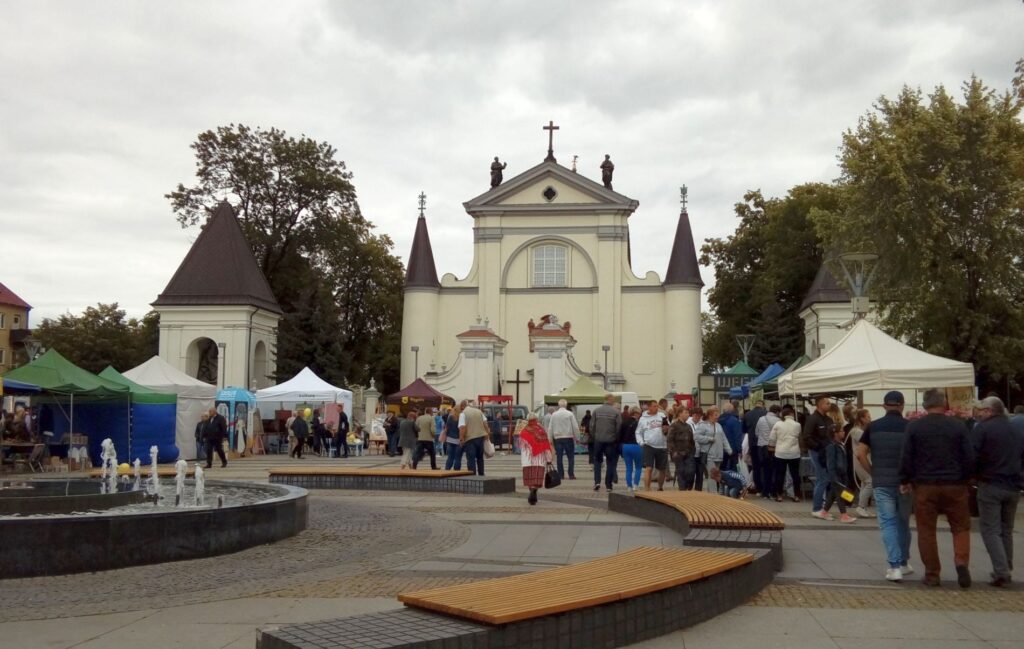 Rafting Organizers
www.liwiec.com – the Zaliwie Szpinki water camp
www.kamyk-kajaki.pl rental – Kamieńczyk
Canoes at Paweł's www.kajakiliwiecibug.pl – Kamieńczyk
Kajakiugrzeska.pl – Kamieńczyk
Canoeing trips, tel. 880 300 205 – Zawiszyn
Canoeing on the Liwiec and Bug rivers, tel. 796 507 740 – Strachów