Weekend break away from home? This season, it is worth going to the vicinity of Iłża, where there is a clean and safe bathing area with a number of amenities. It is one of the most attractive places for summer rest in the southern part of the Masovian Voivodeship.
Active recreation
The biggest attraction? Of course, swimming in the lake, relaxing on a small beach – grassy or sandy, and…. the possibility of walking on the lake thanks to special viewing platforms. There is a shallow water bathing area for children. During its opening hours (10-18), the bathing area is monitored by lifegueards of the Voluntary Water Rescue Service.
From the equipment rental, open in summer season, you can rent kayaks and canoes, a pedal boat, a duck-shaped pedal boat and a dinghy. You can also practice motorboat sports on the lake.
Visitors can also use tennis rackets with balls, go – karts and bicycles for adults and children with children seats. You can ride them in the vicinity of the lagoon. In the event of a bicycle breakdown, repair tools and a tire pump are available in the administrative building on the swimming pool. In addition, you can rent deckchairs on site and buy wood for a fire and light it in a designated place. In the vicinity of the beach, there are two beach soccer fields and an outdoor gym.
A modern playground with a climbing tower and a climbing wall, a slide, a rope interlacing, a hanging bridge, a wooden tube and educational panels await children. Swings, a carousel, a spring rockers, exercise equipment and a sandpit will also provide entertainment.
The lake boasts the cleanest water in the region, which favors the multiplication of fish. No wonder that Iłżanka also attracts anglers.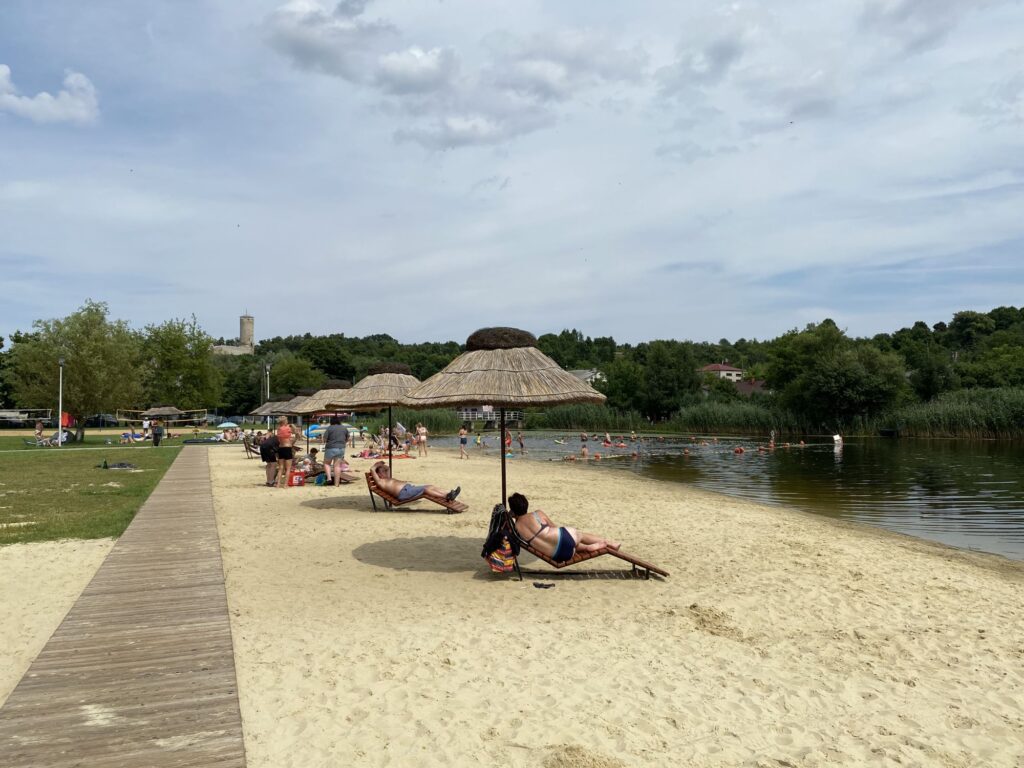 Concerts and accommodation
The resort offers an amphitheater with concerts during summer weekends. You can come for more than one day, and spend the nights in bungalows located on the Iłżanka River. There is a relaxing terrace in front of each cottage. There is a grill at guests' disposal. It is also possible to put up a tent on the campsite or park a campervan. Electricity is supplied to the tent or vehicle at an additional cost.
Admission to the bathing area is free. Motorists can leave the car in a large parking.
Castle ruins and other attractions
When choosing the place, it is worth visiting Iłża and getting to know the city's landmark: the ruins of the castle of Kraków bishops from the 14th century. From the observation deck at the top of the castle tower there is a view of the surrounding area and the Świętokrzyskie Mountains.
In the city, you can also visit the Regional Museum to learn about the history of the city and the history of pottery craftsmanship. On weekends, from May to September, a narrow – gauge railway runs along the route Iłża – Marcule and is very popular among tourists.