The Narew river valley is often called the "Polish Amazon" because its structure resembles the system of the largest basin in the world. A dense network of river channels of various widths and lengths, which alternately connect and separate, form a very complicated labyrinth, making the Narew the only one in Europe and one of the few in the world (including the Amazon and the Congo) an astonishing river.
OFFER FOR
In the Masovian section, the Narew is regulated in several places, but usually has a natural lowland character, a gentle current with numerous shallows and islets, a sandy bottom and shores surrounded by meadows or wooded, and many oxbow lakes. The river rafting is calm. Riverside slopes, sandbanks, meadows and riparian forests are the mainstay of birds. The dam in Dębe dams up the lower section of the Narew River at its connection with the Bug. The outcome of this undertaking was Lake Zegrzyńskie and a higher water level on the section from Pułtusk to the Lagoon.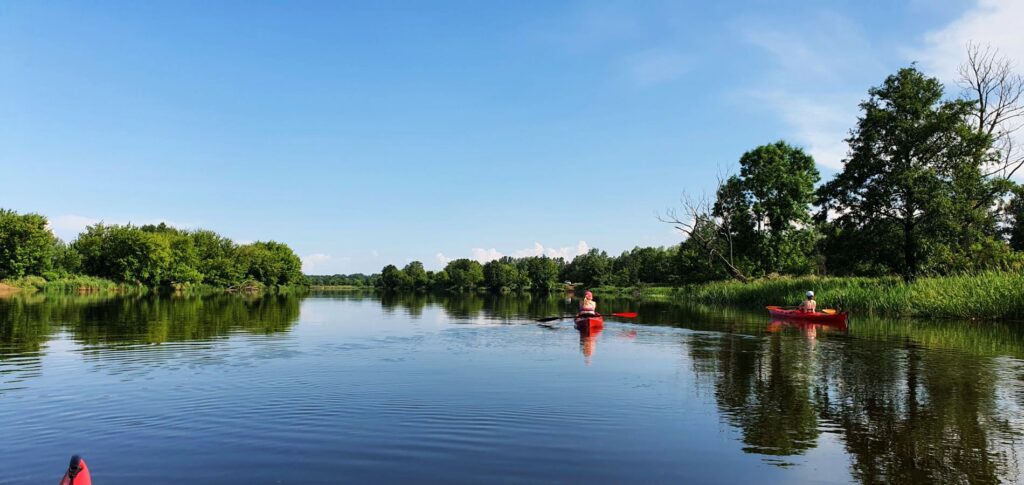 The Narew is characterized by large fluctuations in the water level. After the spring thaw, the river forms backwaters. When the water level in the riverbed is low, stones and boulders are exposed. Near Dzbenin, a granite erratic boulder – Batory's Stone protrudes from the water. There is no tourist base by the river, but there are summer villages, camping sites and riverside hostels in Pułtusk and Ostrołęka.
ABOUT RIVER
The Narew is a right – hand tributary of the Vistula, which connects with it after Lake Zegrzyńskie in Nowy Dwór Mazowiecki. It flows through Podlasie nad Mazovia (484 km in Poland, including 160 km in Mazovia), it flows from the swamps in the Belarusian part of the Białowieża Primeval Forest and is a part of the route connecting the Great Masurian Lakes with Warsaw.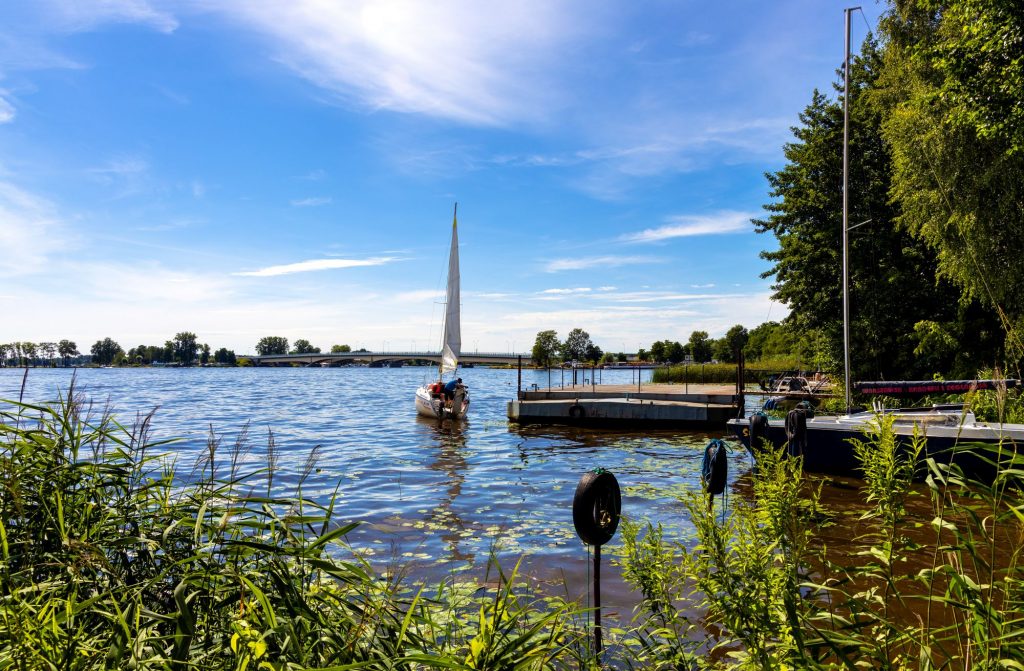 Where to start kayaking trips
One – day:
Laskowiec – Ostrołęka – Kamianka,
Zambskie Kościelne – Pułtusk,
Karniewek – Dzierżenin,
Gzowo – Dzierżenin,
Laskowiec – Kamianka,
Ostrołęka – Różan,
Pułtusk – Dzierżenin
Two – day:
Gnojno – Dzierżenin
Seven days:
Łomża – Ostrołęka – Dzierżenin 
Nowogród – Ostrołęka – Pułtusk – Serock
Worth seeing during kayaking trips
Nowogród – the Kurpiowski open–air museum,
Ostrołęka – a former Bernardine monastery, the Kurpie Culture Museum, Monument of the Mausoleum of the Battle of Ostrołęka 1831.
Pułtusk – "Venice of Mazovia", the bishop's castle with the hotel and conference center Dom Polonii, the longest market square in Europe.
KAYAKING TRIPS' Organizers
www.rzekami.pl
www.bobrowadwor.pl
www.bajdarka.pl
www.kajak24.pl
www.kajaki-dylewski.pl