Skrwa – a river like a razor. It sharply cuts and cuts deeper into the plateau of Brudzeński Landscape Park. The varied terrain of the Park is a peculiarity in lowland and flat Mazovia. In some places, the slope angle is as high as 16 degrees. Hence the multi – level river terraces and steep slopes cut with ravines and ravines. In the vicinity of the river valley, there are large areas of meadows and forests, as well as interesting forms of postglacial relief: gutters, ozone embankments and small lakes. 
OFFER FOR
Skrwa is accessible to canoeists from Lake Skrwilno, but most of the canoeing trips start near Sierpc. It is a changeable river and quite a difficult trail, one of the most interesting in the county, with burdensome portages, rapids and weirs. There are lazy and quick sections here, almost mountainous in nature. The most beautiful part of the river, in the Brudzeński Landscape Park, begins with a picturesque forest gorge in Sikorz. Skrwa accelerates and meanders in a deep valley with steep, forest shores, the current is full of fallen trees and erratic boulders.
The trail ends with a floodplain formed after damming the Vistula River with a dam in Włocławek, where you can still see the remains of flooded villages.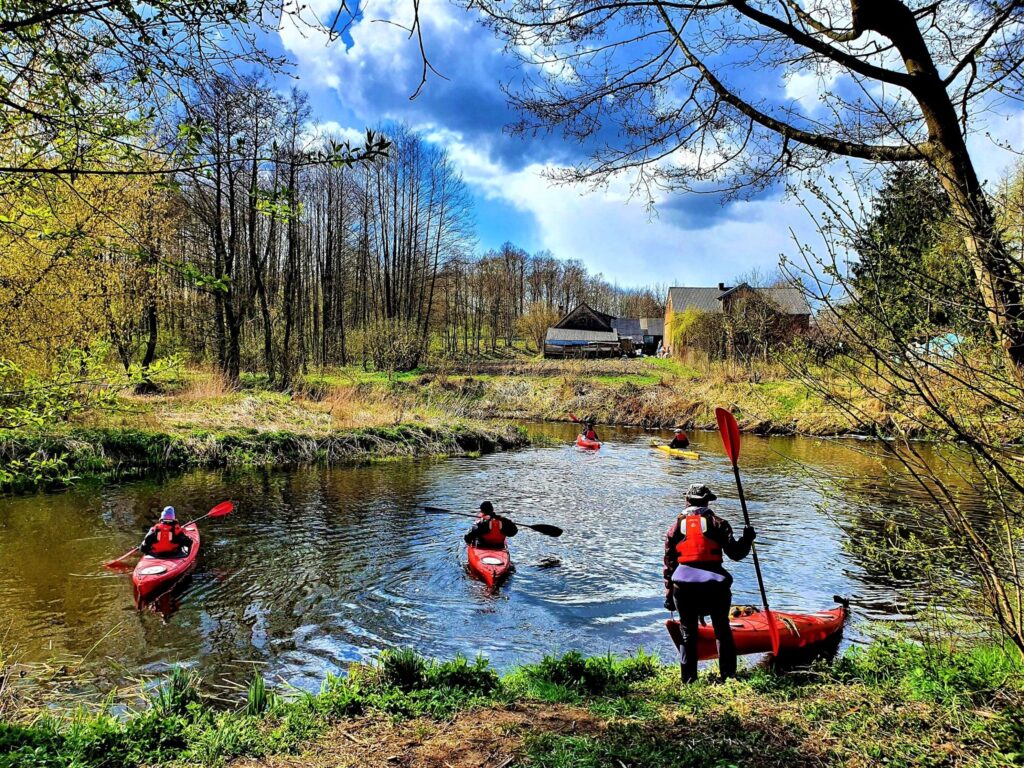 ABOUT RIVER
The Skrwa is a right – bank tributary of the Vistula (114 km) with its springs near Płociczno and its end in Lake Włocławskie. In its lower reaches, it flows through the Brudzeński Landscape Park and Natura 2000 area.
WHERE TO START KAYAKING TRIPS
One day:
Parzeń – Murzynowo,
Studzieniec – Malanowo,
Malanowo – Tłuchowo
Brudzeń Duży – Murzynowo
Two day:
Malanowo Stare – Babiec
Borowo – Skrwilno,
Tłuchowo – Murzynowo
For- day:
11
Studzieniec – Lake Włocławskie
Worth seeing during kayaking trips
Płock – buildings on Tumskie Hill, market square, classicist town hall, Art Nouveau Museum, Natural History Museum.
Dobrzyń on the Vistula – the Franciscan monastery complex, a stronghold on Góra Zamkowa
Sierpc – Museum of the Masovian Countryside
KAYAKING TRIPS' Organizers
www.kajaki.zwinka.pl
www.przystan.ekoturyzm.pl
www.motoprzystan.pl
www.kajakiskrwa.pl