SLOW LIFE IDEA
Mikołaj, the originator of the farm, lived and worked in Warsaw with his wife most of his life. At some point, more than 20 years ago, he decided to move to the countryside. He always dreamed of working in nature, as a young boy he wanted to become a forester, but life turned out differently. The beginning in the countryside was difficult. He had to commute almost every day, combining his passion with working in the city. When he finally got a place to live in and to move became possible, he bought the first two horses – Klara and Dalia. It was another dream to come true. All he had was just "book knowledge" as he had never even ridden a horse before. So they started learning to ride horses with the whole family. After some time, a small stable was also built and more horses were bought. When his son, Michał, became a riding instructor, the family started organizing short holiday stays in the saddle". At the same time, they collaborated with other riding instructors and schools. At the beginning, during the summer holidays, the kids would come here to camp. The conditions of stay were harsh, but the atmosphere and commitment of the hosts meant that the group returned every year and with time the group of equestrian practitioners expanded. After some time, a facility with several rooms and a common room was built. And so, over the years, the farm has been developing as the offer for school and preschool trips with nature educational panels and other attractions grew. Despite the growing competition on the market, often offering modern solutions, facilities or attractions, enthusiasts from Sielanka manage to slowly develop their farm and derive a lot of pleasure and satisfaction from working there.
IDYLLIC STORY
Guests of Sielanka farm are mainly children as the owners are most familiar with young guests. For many years, the place has been visited by children who often start their adventure with horse riding from the age of 7 and end up as adults, qualified riders. And even later, when they "outgrow" their children's holiday stays, they often visit Sielanka farm, asking about the organization of hen and stag parties. If a small child, for whom it is often the first trip without parents, overcomes the longing for home and after a few days of stay forgets to call his parents, this brings great joy and satisfaction to the hosts. Then they know that the child feels well and safe, and in the following years the child will probably come back here for holidays. Children come here for holidays with different dietary preferences. Alicja, Mikołaj's wife, who works in the kitchen, does not give up, and before someone says that does not like something, they have to try soup, salad or cottage cheese. Very often it ends with completely new, tasty discoveries. In following years, "fussy eaters' ' from the first day of their stay ask for specialties, for example during the survival kitchen by the fire, where dishes made of weeds reign. And this is how the hosts discover new tastes for their children. During holidays, they "make friends" with horses and choose their favorites. They bring special horse "flavors" for them and always run to the stables with snacks first.
The most difficult thing for young guests is always the end of holiday and parting with the Sielanka farm. And for Mikołaj and the other hosts the goodbyes, such as those when the mother of one of the participants said: "My daughter called me yesterday and told me to come pick her up….but only in October".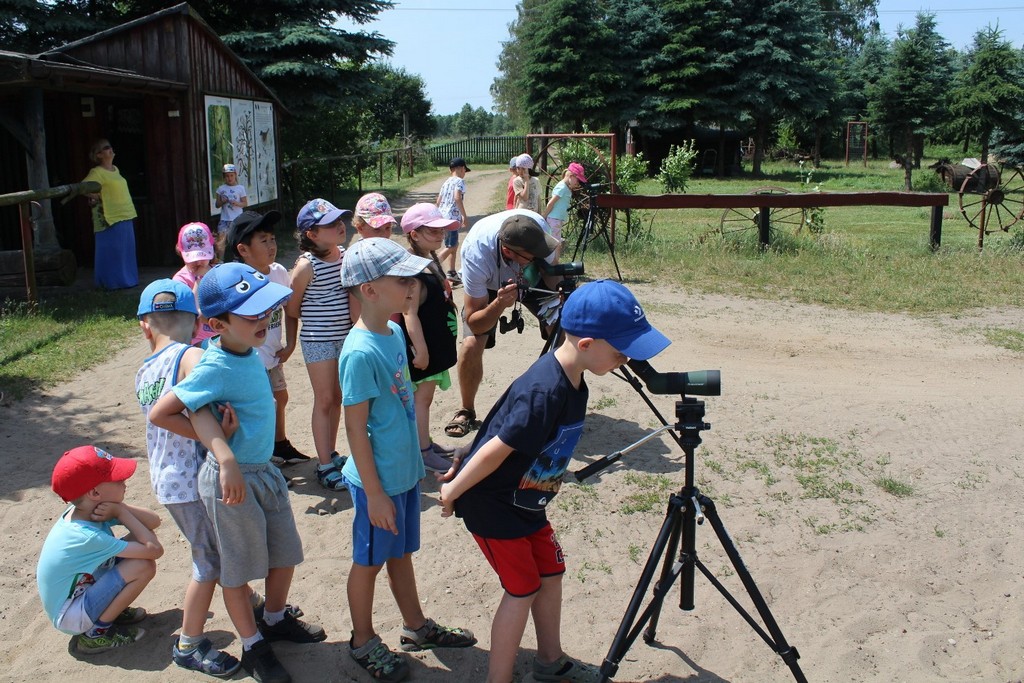 FAVORITE PLACES
The Sielanka farm is situated among beautiful fields, meadows and forests, in the buffer zone of the Pólka – Raciąż Nature and Landscape Complex. It is one of the largest bird refuges in Mazovia, called by nature lovers "little Biebrza". It's a great place for bird watching enthusiasts. Not far from the Sielanka, in Sierpc there is the Museum of the Masovian Countryside – an open air- museum presenting the history of the Masovian countryside at the turn of the 19th and 20th centuries. There are numerous workshops, meetings and festivals taking place in summer.
The nearest big city is Płońsk with Weyher Manor, where young Henryk Sienkiewicz used to live. Thanks to this, the Sienkiewicz Trail was created, which goes through places associated with the writer.
There are also many manor complexes in the area, including Bogusławice, Ćwiklin and Skarżyn.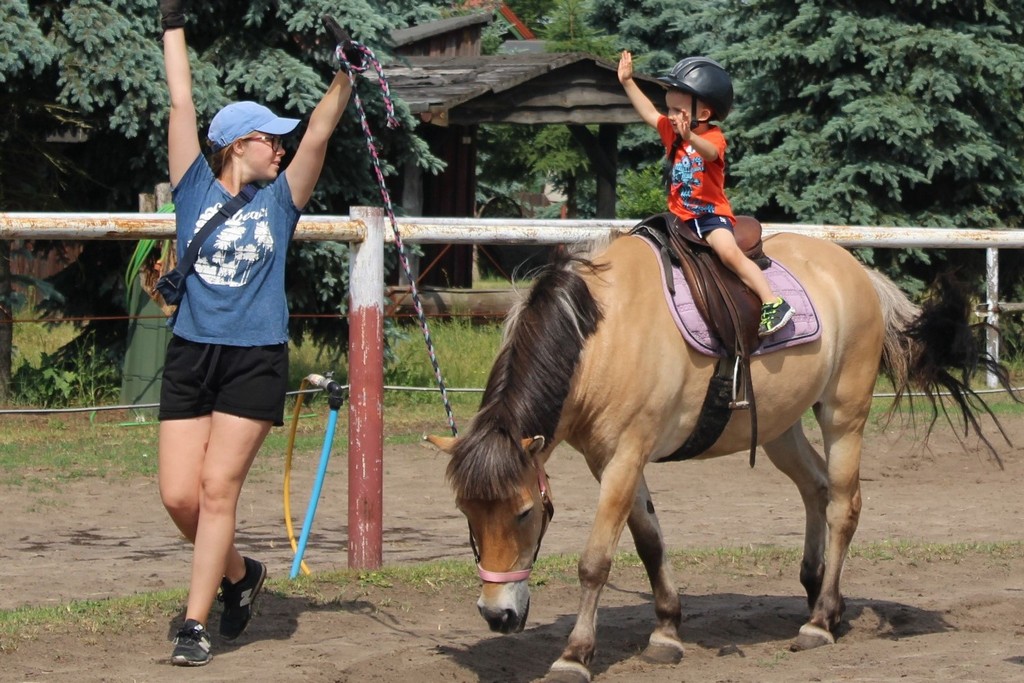 YOU DID NOT KNOW
Mikołaj, the founder of Sielanka is an animal lover. Once, while at a market, he found out that one of the traders wanted to sell a horse for slaughter to a slaughterhouse. And because Mikołaj loves horses, he decided to buy Natasza and take her to Sielanka farm. It turned out, however, that he only had a small amount of money with him. Mikołaj, however, did not give up and bargained with the trader for so long that he agreed to sell him the poor horse in installments. Since then, the rescued Natasza has become one of the most important friends of Sielanka. She bravely participates in riding lessons and is the only horse of the Sielanka farm that can pull a cart and a sleigh.
At the farm, amber was found during the dredging of the numerous ponds. The soil from the deepened reservoir was scattered on the meadow and after each rain the whole family went looking for amber. Thanks to this findings, the pond was named "Burszynek". In this area rich in ornithological terms, you can watch numerous hoopoes, jays, woodpeckers, greylag goose arriving in spring as well as white herons and white-tailed eagles.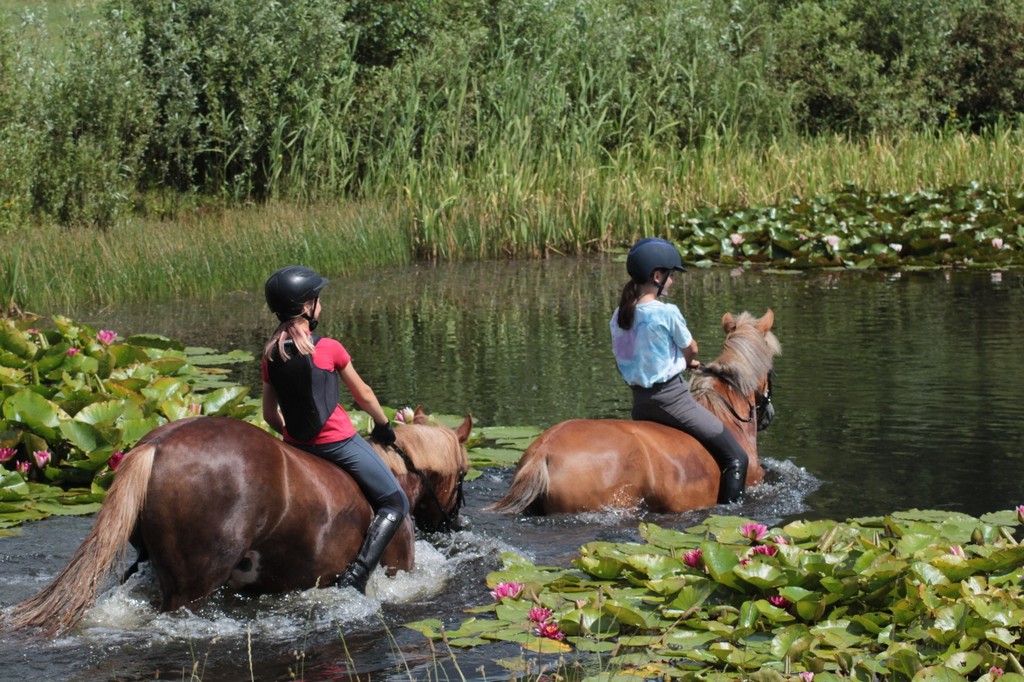 WHAT WHERE WHEN
In Raciąż, the harvest festival is celebrated, and during summer holidays there is the Raciąż Fair taking place. You can buy handicrafts, watch old professions, competitions, shows and listen to concerts of folk bands.
In June, the Agricultural Fair takes place in Poświętne near Płońsk. It is a huge event presenting big agricultural machinery, but also cattle and pigs. There are horse shows from different breedings, as well as handicrafts and plant nurseries. In autumn, "Od pola do stołu" event takes place with culinary competitions, concerts of folk bands and a fair, where you can buy local specialties: country cheeses, meats, beer and honey.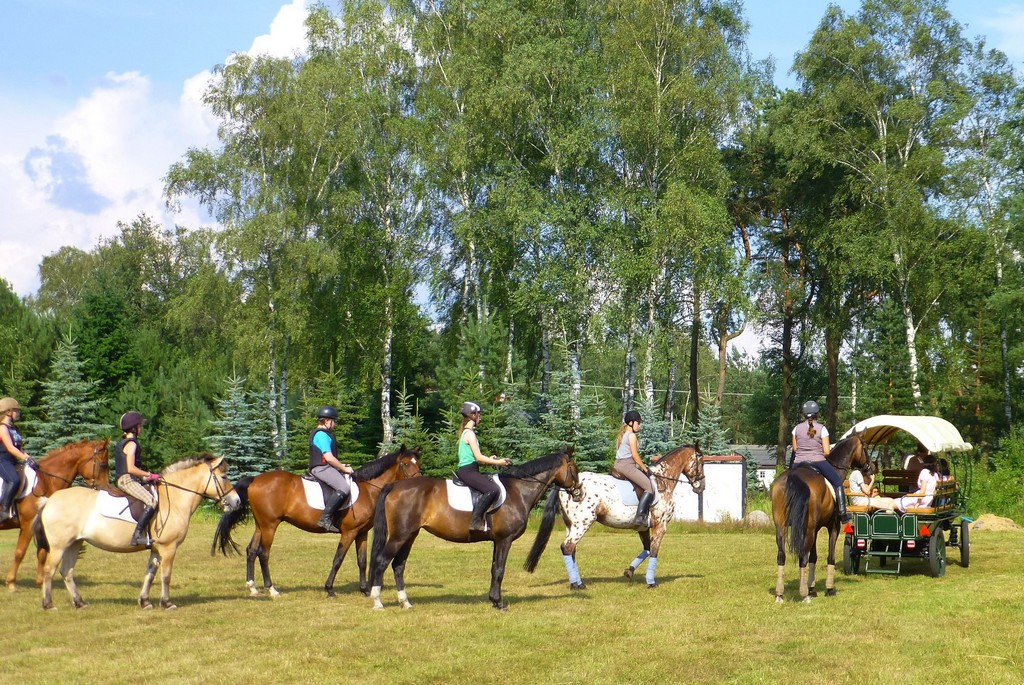 IN THE OFFER
The Sielanka farm has an offer for groups. The accommodation part of the facility consists of 5 multi – bed rooms with bathrooms and 3 common rooms, that allows groups of 30 people. There is a stable, paddocks and an indoor riding school, where you can learn to ride in bad weather. The entire area is 13 hectares away from other buildings and roads. This guarantees guests safety and provides a quiet and secluded place to rest. There are numerous ponds, meadows, fields and a forest there.
There is also a beach volleyball court, sauna, barbecue, place for a bonfire, and in the common room ping–-pong table, table football and a projector, sound system and party lighting. Horse riding lessons take place at weekends, and horse riding stays are available during summer and winter holidays. There are also nature stays for younger children.
One day and multi day trips are organized for school and kindergartens. In addition to active recreation, the offer of educational panels is constantly expanded. Children of all ages can take advantage of thematic activities, such as Nature is an Adventure, Ceramics, Aromas and Soaps, Horses and Us, Herbal Corner, Wild Kitchen, Sweet Weeds and others.
The Sielanka farm belongs to the Polish Network of Educational Farms. There are also meetings on St. Mikołaj's Day and Christmas meetings, sleight rights and wagon rides organized.
The facility also organizes family events and meetings, including first communions, birthday, anniversary parties, and small wedding receptions. Training and integration meetings are possible for companies. Adults can enrich such events with an air gun or bow shooting competition or horse tram rides. A great advantage is the local area, where guests feel at ease and can spend time in a relaxed and unhindered atmosphere.
All meals come from the Sielanka home cooking. The products they prepare are always fresh and mostly come directly from local farmers and hosts. Organic vegetables usually come from the Silenka garden, which ensures quality and freshness. At Sielanka , you can also taste game products, and specialties of the kitchen are pork cheeks and delicious pork neck, thick sour rye soup, bread and pate baked on the spot according to an original recipe with homemade jam and many other delicacies that you must try!
Occasionally, the Sielanka farm hosts such events as: bird counting, Hubertus, natural cosmetics workshops, herbal workshops or meetings with wild game cuisine.
HOSTS
The Sielanka team is a close – knit family team. Alicja and Mikołaj Adamczyk are the enthusiasts and the Sielanka organizers. Mikołaj is a man of special tasks, and Alicja is the hostess who can conjure up delicious meals.
Marta and Rafał Łach, the daughter and son- in- law, recently discovered rural life and left Warsaw. Apart from marketing and organizing trips, Marta conducts herbal, cosmetic and natural science classes. Rafał provides support when needed.
Małgosia and Michał Adamczyk, that is the daughter-in -law and the son, created a series of classes "Nature is adventure". Michał is an avid hobby ornithologist, conducts nature classes, and Małgosia – ceramics workshops.